Here's the latest Microsoft Teams feature in the public preview for delegating certain settings on call queues and auto attendants to end-users. This new feature is supposed to go to general availability in May 2023 and is being tracked as MC527929 in the Microsoft 365 admin portal on the M365 roadmap with an ID of 116739.
This feature of Microsoft Teams has been asked for by a lot of customers for a long time. This existed in Microsoft's old Skype for Business product but was not added to Microsoft Teams Voice when much of the Skype for Business functionality was ported into Teams.
Microsoft Teams Voice Application Policies
When this new feature arrives in your tenant, you will see a new option under the Voice node of the Microsoft Teams admin center (TAC) called Voice application policies. There is a global org-wide default policy that comes out of the box with everything disabled. You can modify this policy if you want to it be the same for all your users or create a new one.
How can you manage voice application policies for Microsoft Teams?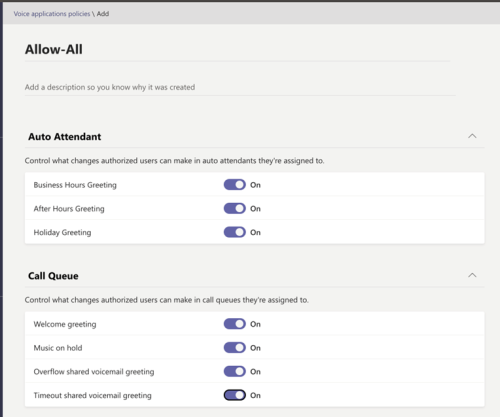 Currently these settings focus on greetings and music on hold.
There is one major caveat to the Voice application policies – a user can only have one policy assigned to them. So, if you want a user to be able to modify the welcome greeting for one call queue and not another call queue, that configuration is not possible. We'll go over it in a moment, but on the call queue/auto attendant side, you only assign a user. There are no permissions; the permissions come from this policy.
How Do I Assign A User to Manage Call Queues or Auto Attendants in Microsoft Teams?
To assign a user to manage a call queue or auto attendant, open the call queue or auto attendant and select the Authorized Users option in the left column.
Use the Add button and add a user.
Be sure to click Submit to save the changes to your call queue. I demonstrated this with a call queue, but an auto attendant is the same. 
How to Enable Microsoft 365 Users for Microsoft Teams Call Queues and Auto Attendants Greetings Customization?
For a Teams end-user, the options that you've assigned to them are in Settings, then Calls where they go to opt-in or out of the queue. From the calls screen, the call queues are now menus that a user can click.
Once the user selects an option, they are presented with the ability to change the settings you assigned them.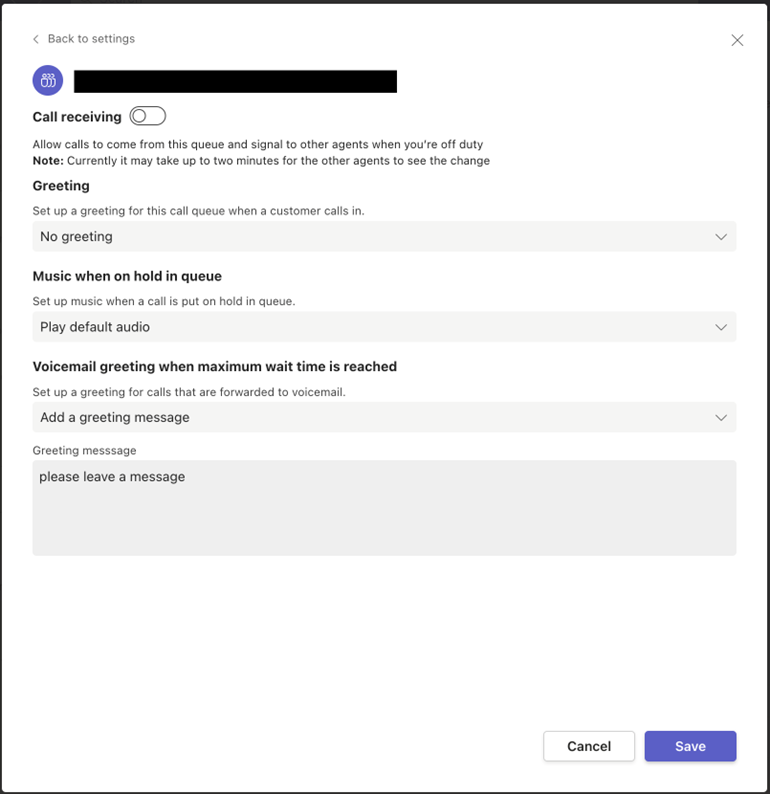 Hopefully these new Microsoft Teams features make it into your tenant soon, and Microsoft continues to add to this new capability. 
Coming soon in May 2023, this highly anticipated feature allows users to assign and manage voice application policies for personalized settings. With options to modify greetings and music on hold, users can easily customize their call queues and auto attendants. Although users can only have one policy assigned to them, the authorization process is simple, allowing for seamless customization. Stay tuned for these exciting updates and further enhancements from Microsoft Teams.
FAQs for the New "Customizable Greetings and Announcements" Feature in Microsoft Teams