At Windows Management Experts, we enhance the capabilities of Microsoft Power Platform by creating top-notch adaptable solutions for our clients. We fully capitalize on the resources and possibilities offered by Power to deliver exceptional results. We offer all-inclusive development, integration, and automation services including consultation, design, and final implementation to streamline processes across the whole ecosystem.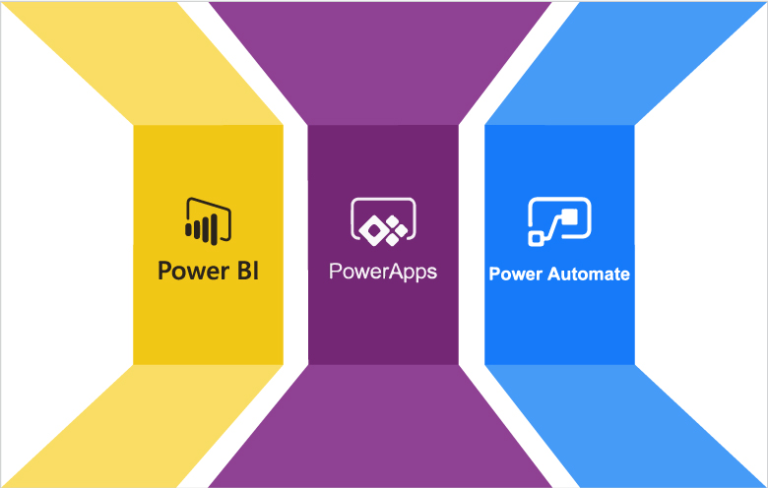 The Microsoft Power Platform is a one-of-a-kind suite of low-code services that makes it simple for businesses to unify and use their data and create ultra-specific apps and workflows that improve the client experience and boost the bottom line.
Although tools like Power BI, Power Apps, and Power Automate can drive your entire digital strategy into high gear, businesses using these tools frequently fail to provide the results they want. Even if you start with one of the Power Platform's many conceptual templates, it might be challenging to determine which platforms to deploy and how to use them to achieve crucial objectives as these solutions are so open-ended. That's where you need some reliable Professional support for Power platform.
Making use of the Power Platform, Dynamics 365, and the rest of the Microsoft ecosystem, our professionals assist businesses in completely transforming their operations. Here at WME, we know precisely how to generate important benefits for our clients as we are a full-service Microsoft partner with more than 15 years of experience.
The expert services we provide to help you transform your Power Platform Ecosystem
We go through the hundreds of regularly coming Microsoft features and pick just the right ones that suit your scenarios and unique demands. We then dive deep into product specifics, covering Power BI, Power Apps, and Power Automate, as well as assisting technologies like the Most reliable governance tools, AI, or Dataverse, etc. the ultimate roadmap that we create covers all the needs you share with us. 
Create applications quickly and easily and connect them to data. Use Excel-style expressions to add logic and execute the programs on platforms like the web, iOS, and Android. Fully leveraging power apps, we build Single Screen & Dashboard Canvas Apps (also with approvals.) With automated Power Apps, our top-drawer experts intelligently design highly productive apps, bringing out their most expansive capabilities – which are way more than plain drag & drop functionality.
Approval Flow & App integration
By efficiently managing the approval of documents and processes across various platforms such as SharePoint, Dynamics 365, Salesforce, OneDrive for Business, and others, we ensure the safety and security of your information.  We also improve and streamline email notification flow so that you can reuse email alerts in Workflows.
Integration of Power Automate with Power Apps
Our experts can assist you in creating a streamlined and user-friendly solution by utilizing the various default integrations and connectors available in Microsoft Power Automate to connect multiple applications. Integrating Power Automate with Power Apps, we will ensure enhanced productivity, immense timesaving, compliance enforcement, the creation of an audit trail, and streamlined request processes, ultimately leading to increased productivity and efficiency.
Inquire Away! We've Got You Covered!
Power Automate Migration & Template Implementation
We help organizations move their existing workflows and processes from other platforms to Power Automate. We skillfully navigate the whole migration covering data, automations, and configurations from the old platform to the new one, ensuring that the transition is seamless, and your operations are not disrupted. With us, you can transform manual and legacy processes to modern cloud apps using Power Apps and Power Automate.  We also implement pre-built templates for a single user or at the organization level, which are designed to streamline specific business processes and tasks. These templates are developed by our certified experts and have been proven to be effective in various industries.
With Power Automate, we help businesses create and best utilize PowerBI Dashboards with a single data source, such as an Excel spreadsheet, or multiple data sources, such as a combination of Excel and a SQL database. We have all the knowledge and expertise to create customized dashboards to help your users to connect their data sources to the dashboard, ensuring that the data is accurate and up-to-date. Now you can gain insights into your data and improve your decision-making processes ultimately to monitor key performance indicators, analyze trends, and make data-driven decisions. We'll also help you automate data updates ensuring that users always have access to the most current information. We'll make it easy for you to choose from a variety of visualizations, such as charts, tables, and maps, to display your data.
Power Platform Benefits with WME Professional Services
Streamline day-to-day tasks and focus more on strategic decisions 
Enable accuracy through Ai-driven decisions
Boost employee productivity through perfectly integrated apps
Reduce the risk of errors & downtime by collaborating with seasoned experts
Full-proof 24/7 monitoring & support
Regular updates, upgrades, and maintenance
Highly customized solutions focused on your specific business needs
Training and support for your team whenever you want
Windows Management Experts
We are one of the earliest Microsoft Power Platform partners and our certified experts have been involved with the Power Apps since its launch in 2015. At WME, we prioritize Microsoft certifications, vast experience, and a strong value system from our employees. So WME, as a team, always aspires to best utilize different Power capabilities for our clients, across Office 365, Dynamics 365, and other third-party tools. We build highly efficient, personalized solutions tailored exactly to your core business needs no matter at what stage of scaling your company is.
     We hunt & solve the core problems.
     We Implement all the right steps risk-free.
     Proven skillset & strategies.
     Empathetic & diverse support suitable across cultures.
Power Platform Roadmap

Single Screen Canvas App

Dashboard Canvas App

Dashboard Canvas App with Approvals

Power Automate existing template implementation for single user or at organization level

Power Automate Approval Flow

Power Automate Integration with PowerApps

Power Automate Migration

Power Automate Email Notification Flow

PowerBI Dashboard with Single Datasource

PowerBI Dashboard with Multiple Datasource
Power Automation Solutions