Looking for a powerful tool to fuel your business growth? Look no further than Microsoft Office 365 for Business solutions. As a business owner, finding the perfect technology to meet your needs can be a daunting task. However, we're here to lighten the load and introduce you to Microsoft 365 for Business- a potential game-changer for your business.
As a subscription-based Software as a Service (SaaS), Microsoft 365 for Business simplifies your productivity suite decision-making process. In fact, a report by Forrester claims that businesses leveraging M365 are expected to earn more than 150% ROI per year. 
In this article, we'll highlight four key features and benefits of Microsoft 365 that could significantly enhance your business operations.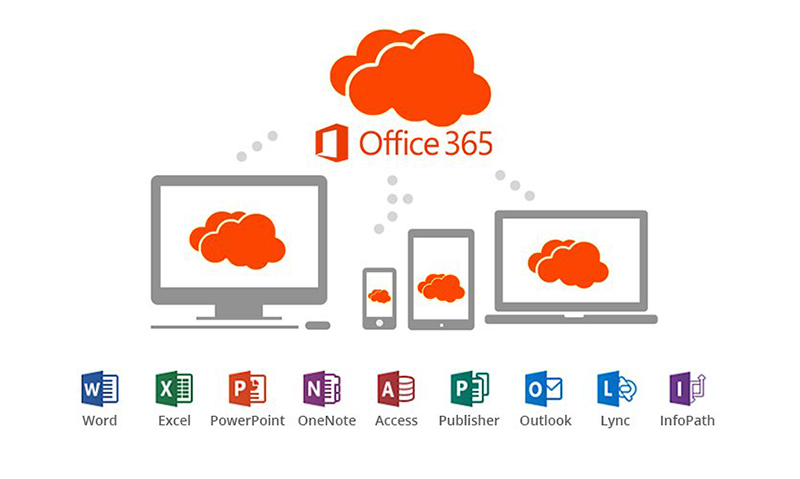 What is Microsoft 365 for Business?
Microsoft 365 (Previously, Office 365) for Business is a cloud-based service that offers an immense power of cloud productivity to businesses of any size, allowing them to save time, money, and resources. With Microsoft 365, you can enjoy all the benefits of a robust IT infrastructure without the need for expensive in-house mail systems.
In fact, Microsoft 365 works seamlessly across all devices, including smartphones and tablets, so you can take your productivity with you wherever you go – all you need is an internet connection. With familiar desktop applications like Microsoft Office and cutting-edge collaboration tools such as OneDrive and Skype for Business Online, Microsoft 365 cloud empowers users to work from virtually anywhere in the world.
Let's explore 4 top ways Microsoft 365 can help your business thrive and grow…
1. The Immense Cloud Advantage of Microsoft 365
Cloud offers innovative and powerful modern solutions for businesses. These solutions can be both convenient and secure at the same time depending on which vendor you choose to work with. A good cloud solution like M365 seamlessly connects your workers and streamlines your day-to-day business affairs. Via access to its essential apps like Microsoft Word, PowerPoint, Excel, and Outlook, users can leverage the powers of Microsoft 365 cloud on any approved device, as long as they are connected to the internet.  
Get Trusted Security & Compliance with Microsoft 365 Cloud 
Office 365 provides a highly secure environment with robust security measures such as two-factor authentication, which prevents unauthorized access to your files in case someone gains access to your connected devices. With threat detection and anti-malware features, potential hacking or data breach attacks are detected and prevented immediately. This is especially crucial for organizations handling sensitive data. In fact, admins can also use its Mobile Data Wiping feature to ensure that your sensitive data is safe and secure, even if your device is lost or stolen. That means, with Microsoft 365, businesses can operate with peace of mind without having to hire multiple resources to manage their digital security.
Leverage Unlimited Storage and Dependable Backup
Microsoft 365 allows you to store your files and databases in the cloud and back them up regularly, so you have peace of mind that your crucial data is never lost. Even in the event of a disaster, your business can continue its normal operations in full swing. That means that even if your physical devices are damaged (the worst-case scenarios), your emails, customer data, and files are secure in the cloud. That said, Microsoft Exchange offers amazing recovery options that allow you to restore even individual emails or an entire inbox if required. All in all, Microsoft 365 ticks all the essential boxes you need from a cloud service provider. You really need a backup that allows you to continue your operations as usual, no matter what the circumstances.
2. Empowering Modern Workplace with Unprecedented Collaboration Tools
Office 365 comes with some unmatched collaboration tools including Planner Program. This program provides a highly efficient project management solution that allows for real-time collaboration and editing, ensuring that all employees are in sync with each other. With Planner Program, users can communicate and collaborate more effectively without having to refresh their feeds repeatedly.
Other extremely effective M365 tools & services include:
One Drive for Business: instant file sharing both internally and externally
Outlook: professional-class email
Skype for Business: voice and video calls
Quick messaging & notifications
Device-to-device calls
Shared calendars
Customizable branding of emails
Dedicated mailboxes for projects
Get Advanced Level Connectivity with Office 365
Office 365 provides users with various tools that simplify communication and keep it centralized across Skype and Outlook. With Skype for Business, users can conduct meetings and conference calls with both organizational staff and external agencies from any location worldwide, enabling perfect connectivity despite geographical or time-zone differences.
Then, there is MS Teams. It facilitates instant messaging, file uploads, and co-authoring, making it ideal for cross-teams cooperation. Users can even tag specific people in the comments to ensure they receive notifications. All these features ensure constant communication and immediate access to teams and individuals regardless of their location or time. The icing on the cake is Yammer which is a social network for the enterprises using M365, allowing them to post on their collective news feed and send and receive instant messages among the entire workforce. In fact, Yammer offers everything a good social media network is supposed to do.
Streamlined Teamwork and Centralized Workflows: Working Together Made Simple
Office 365 offers a range of collaborative tools that allow you to share mailboxes, calendars, and contacts and edit documents in real time. By sharing calendars in Exchange, you can easily view the availability of staff within your organization, making it possible to schedule meetings that are convenient for everyone.
Shared mailboxes make it possible for multiple people to access the same mailbox, ensuring that messages are not missed and can be filtered easily. SharePoint is also an essential tool for collaboration, allowing any staff member to access and work on documents saved on the platform. Multiple users can then share these shared documents via email links and edit them, taking real-time collaboration to just another level. Microsoft 365 also offers colored flags that identify each user and their respective work location, making it easy to collaborate and co-author documents.
3. Productivity & Cost Efficiency
Office 365 can streamline workflows while saving your business money by offering a subscription-based model that requires small monthly payments instead of otherwise hefty one-time costs, leading to a budget-friendly operational ease. Ultimately, in the long run, businesses can save a huge chunk of money that would otherwise be spent on maintenance and upgrades.
Automatics updates help you stay focused on your core business.
Apps like MS Word, Excel, and Outlook can be accessed online without the need to install any software. Upgrades are automatically performed at scheduled intervals, so you don't have to worry about doing it manually. Moreover, save on the expense of purchasing new software as updates are included in your Office 365 subscription.
Build Websites and Apps on the Go 
With Microsoft 365, you can build websites and apps from anywhere, at any time. You can develop native iOS and Android applications with ease, without having to hire hardcore developers and designers. The native website creation tools are straightforward enough for any tech enthusiast to work on and create proper functional websites.
Cost predictability gives you the freedom of making key decisions beforehand. 
Microsoft 365 is a subscription-based service for which you pay on a per-user, per-month basis, with the cost of licenses varying based on the level of functionality chosen for the business, with different enterprise levels offering different applications and products.
So, there is enough transparency, and you can predict your costs at any point. This essential quality of M365 allows businesses to budget their IT expenditure for the year ahead. Also, as upgrades are included in the cost of licenses, you can further prevent unexpected costs. Additionally, purchasing licenses by first consulting with WME allows making easy adjustments to the number of licenses you need, ensuring that your business is not purchasing unnecessary licenses and wasting money.
4. Opportunity to Boundlessly Scale Up
One of the major problems with the traditional version of Office or other cloud platforms is that they are somewhat difficult to scale to the size of your business. Now, this is a serious bottleneck for businesses that are making growth.
However, as its core consists of online versions of the most productive tools such as Microsoft Word and OneNote, scalability should not be an issue with Microsoft 365 for Business. The suit enables the easy inclusion of new users, services, features, and storage, allowing your solution to grow in harmony with your business and adapt to your unique requirements.
In fact, for businesses of any size or scale, the range of features provided by Office 365 is simply unmatched. You can purchase any monthly subscription plan that is suitable for your size, user strength, and your plan to scale, and continue to operate as usual without any lags or downtime.
Now that you're aware of the multiple unparalleled advantages of Office 365, are you willing to switch from the conventional Office suite to a cloud-based subscription?
With other exceptional benefits, there are no additional hosting fees beyond your idea. So, it can be a great decision for you to transition to Microsoft 365 today.
Let us help you with any questions you may have ahead of this crucial decision. Drop us a quick message and our Microsoft 365-certified experts will reach out to you ASAP.